---
---
DONORS
D O N O R S

We will flush these cows to the bull of your
choice @ $495 per embryo, volume discounts available!
---
Ishee Ms Preferred Honey 502

Preferred Beef x GW Lucky One x
Fortune 500 x GW High Density

ASA # 2289751

* 6 Frame, homo black, triple polled, heavy muscled with femininity and balance, correct feet and legs and excellent teats and udder, outstanding EPD profile
ET half blood heifer calves by P. Honey and Malm Ranch Angus bull Ultimate Design
---
Beef Maker x Red Coat

ASA 2416254
* Incredible 6.41 ultrasound for IMF
* beautiful udder with ideal teat size
* balanced EPDs, phenotype and moderate size
* AVAILABLE TO FLUSH TO THE BULL OF YOUR CHOICE
---
PAST
DONORS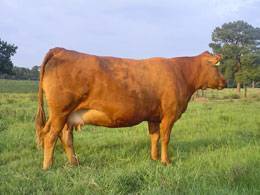 * very moderate framed , super easy fleshing,
* bold sprung and heavy mulscled with extra milk
* polled and solid red
---
GW Lucky One x Fortune 500 x
GW High Density x 600U
*Black Honey ranks in top 4% weaning, top 5 % for yearling and TOP 1% for MARBLING
*High probability homozygous polled, solid black, big volume, easy fleshing, sound footed with plenty of milk
*Super calm, quiet disposition
*See her outstanding litter breed leading calves by HC Hummer in Features Section
---
HSF Vanderbuilt x Preferred Stock
ASA 2088084
*Moderate framed production machine.
*Extra deep bodied, easy fleshing with great milk production.
---
LCHMAN Black Asphalt x LBJ Jade
ASA 2089918
*Polled, non-diluted outcross in a unique red package.
*Excellent milker, nicely balanced with great foot and leg structure.
---
BOZ Wrangler x Ishee Ms Highway Pro
ASA 1926078
*Polled, non-diluted red outcross.
*Big bodied, easy fleshing, dark red with excellent structure and balanced EPDs.
---
Tim Ishee
4337 Sharon Rd
Laurel, Mississippi 39443
Home: 601-425-2708
Cell: 601-580-6972
timishee@comcast.net
---
---
Cattle Sale Page | Show Cattle Page | Breeding Cattle Page
Designed by EDJE Technologies, Inc.